Gold price bulls come alive in a bullish reversal week.
US Dollar retraced a bit despite surging US Treasury 10-year bond yields.
ISM Services PMI release is still awaited for fresh impulse on XAU/USD.
Gold price bulls have returned to action this week, helping the bright metal break out of a bearish trend that had dominated XAU/USD price action during February. What has been more impressive is that Gold has been able to rally despite US Treasury bond yields gathering strength, which usually supports the US Dollar and weighs on yield-less commodities.
Gold news: Chinese PMI boost
Strong PMI data from China, both in Manufacturing and Services sectors, has really helped Gold price to pick up demand, as the Asian giant is a huge yellow-metal market. Gold traders now await more Federal Reserve clues, which could come from Fed officials' speeches and Friday's ISM Services PMI.
In the meantime, investors keep watching the US 10-year Treasury bond yield market, which rallied past the round 4% resistance on Wednesday and remains above this crucial level. The usual inverse correlation of Gold price with the US Treasury yields could provide downward pressures on XAU/USD if yields stay high, but a retracement in that bond market could propel the bright metal on a notable surge.
United States Services PMIs on the way, watch for inflation clues
The Institute of Supply Management (ISM) will publish the Services PMI on Friday at 15 GMT. If this report reaffirms that rising wage costs are feeding into accelerating price pressures in the sector, the US Dollar is likely to hold its ground against Gold. Hence, the Prices Paid Index component will be watched closely by market participants.
It's worth noting, however, that the CME Group FedWatch Tool shows that markets are fully pricing in at least two more 25 basis points Federal Reserve rate hikes in March and May. Additionally, the probability of the Fed holding the policy rate unchanged in June stands at 25%.
The market turnaround has confirmed that the US Dollar does not have a lot of room on the upside, at least until the February jobs report and inflation data confirm or refute one more 25-bps hike in June.
Gold price may have bottomed out, says Commerzbank
Commerzbank analysts report that Gold price might have entered an uptrend on the bullish reversal seen this week:
By the end of the month the expected rate peak had been pushed back into the autumn – what is more, it is now set to total almost 5.5%, which is around 70 bps higher than envisaged at the start of the month. Moreover, there is no longer any expectation of rate cuts this year.

The price increase seen this week despite even higher interest rate expectations could indicate that the correction of the gold price is more or less complete and that the price may have bottomed out at the beginning of the week.
Gold price: US Treasury bonds, the US Dollar and inflation dynamics
Gold is a non-yielding asset – holding it does not provide regular revenue – so it usually remains negatively correlated with United States Treasury bond yields. The benchmark US 10-year bond yield was constantly on the rise for most of 2022 as a response to the Federal Reserve raising interest rates to combat skyrocketing inflation.
Price pressures remain high early in 2023, but Consumer Price Index (CPI) readings in the US and other big economies have shown signs of slowing down, and economists project this disinflation trend to continue through the rest of the year. A prolongation of this trend should help Gold price regain some footing from the demand side.
Treasury yields are not the only asset to track for Gold price (XAU/USD). The yellow metal is primarily traded in US Dollar terms, which makes it really vulnerable to currency market action. When the USD rallies against other major currencies and becomes the go-to asset, like it has been doing for the most part of the last year, Gold price tends to trend down as well. Of course, US Treasury yields and the US Dollar are highly correlated, so these dynamics are intertwined.
Gold price in 2023: Up-and-down action
Financial markets have been a two-tale story for the early part of 2023, in which Gold price has reflected in its price action like no other asset. XAU/USD rode an uptrend during all of January with the market optimism about inflation slowing down and constant Federal Reserve dovish talk, only to see a drastic turnaround back to the old dynamics in February after a hot US Nonfarm Payrolls (NFP) report. The US economy adding more than 500K jobs in the month of January shifted the market expectations for the Fed easing its monetary policy, and the US Dollar has come back to the market King throne.
Gold price opened the year at $1,823.76 and reached a year-to-date high of $1,960 on February 2, right in between the first Federal Reserve meeting of the year and the surprising release of the US jobs report for January. Gold price went on a big downtrend from there, reaching year-to-date lows just above $1,800, where it found support.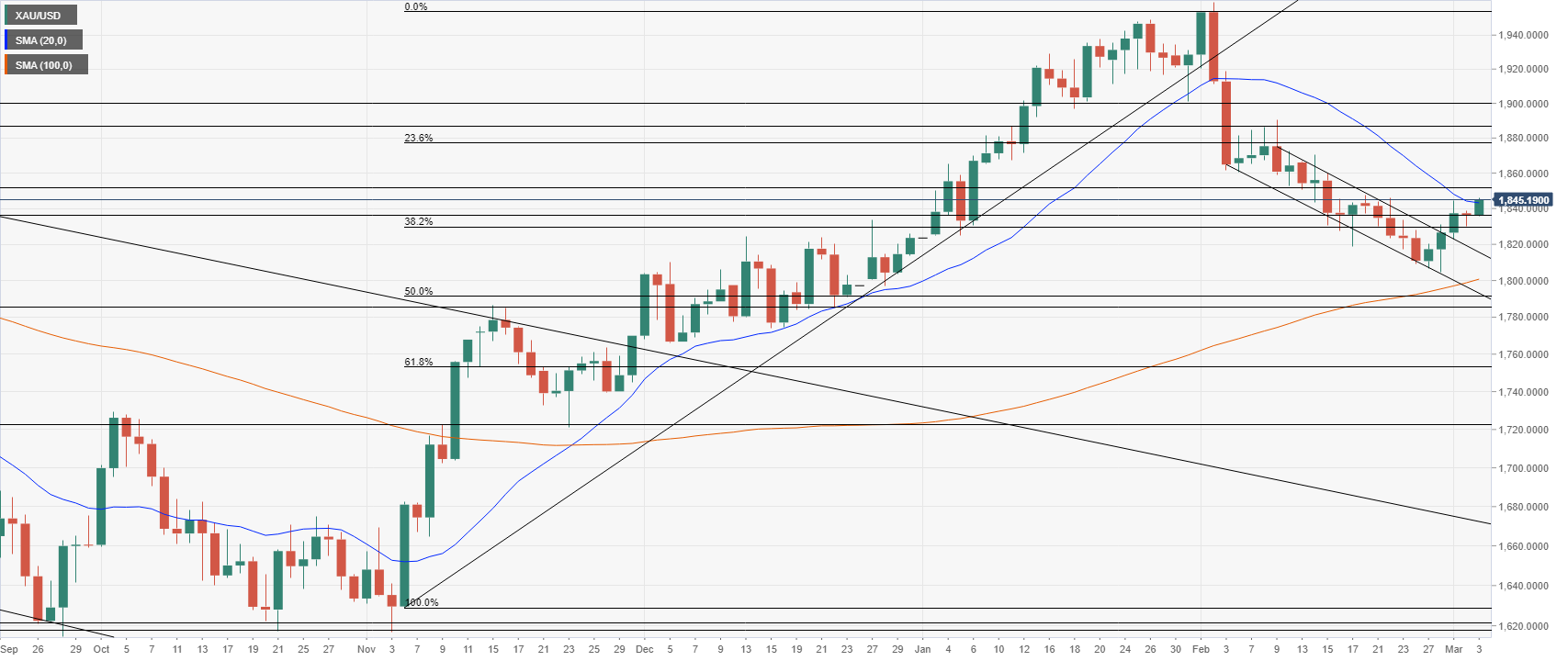 Gold price daily chart